Cryptocurrency is a growing revenue stream for businesses of all sizes.
Did you know the number of Bitcoin ATMs in the U.S. surpassed 20,000 units in July? Or that El Salvador became the first country to legalize Bitcoin as a legitimate currency in the same year?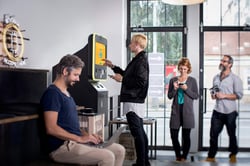 Cryptocurrency is evolving fast and gaining popularity every day. So what can this growing revenue stream do for your company?
In our free guide, A Comparison of Cryptocurrency Technologies, we explore the myths and facts surrounding cryptocurrency ATMs and kiosks. For retailers and banks alike, this new technology could promise an increase in revenue and greater engagement with unbanked customers.
In this comparison, you will find everything you need to know about cryptocurrency ATMs, including:
Debunked myths about cryptocurrency ATMs.
Information on start-up costs, fees, and return on investment.
Details about self-service options and conversion abilities.
And more!
Fill out the form to get your copy!