Unlock new levels of operational efficiency
Managed Services is not a new concept in today's industries, and although the decision to explore how it will impact your current operations is a big one, it's well worth it.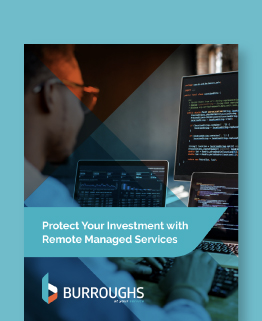 Burroughs is able to offer a full range of services, many of which can be delivered remotely. You'll get everything from software patch management to security services to inventory management. The best part? You're not limited to specific hardware—we service cash recyclers, smart safes, and ATMs.
With this free download, you'll learn:

The benefits of remote managed services
How Burroughs' Remote Managed Services can keep your fleet humming
What sets us apart from other independent servicers
And more ...
Access your copy by filling out this form »