Your payment and transaction technology is an extension of your brand, but managing and maintaining your machines can be complex and costly. Not only must your staff constantly monitor for security and compliance standard changes, but you also need to be on call to troubleshoot errors and perform preventative maintenance. Every minute that your staff spends on these tasks is time away from your customers.
Why not hand over all of these responsibilities to the experts at Burroughs?
Burroughs brings together a full range of managed services, from software patch management, real-time monitoring, remote diagnostics, and fleet consulting, all backed by a 24/7 dedicated call center paired with an online customer web portal. But there is so much more.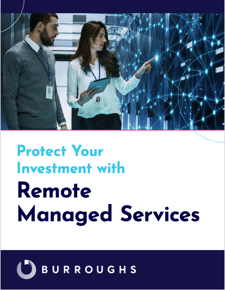 Download our e-book, Protect Your Investment with Remote Managed Services, to learn how:
Burroughs' remote management software can triage and attempt to resolve issues quickly from a distance
Our team can balance ongoing service and maintenance with facilitating special initiatives, such as implementing new features or handling equipment transitions
Burroughs can use your fleet's real-time usage statistics to provide consultative support such as repair-versus-upgrade decisions
Fill out the form to get this resource today!