Let's get down to the facts.
Does handling cash add stress to your day-to-day operations? You're not alone. More and more retail companies are turning to smart safes as a problem-solving, innovative solution for cash management.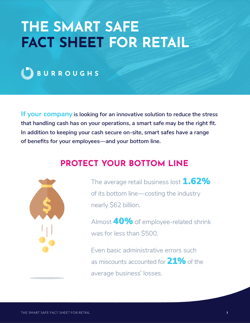 Why? Not only will these safes keep your cash secure, but they'll also offer perks such as speeding up transactions and displaying real-time cash levels.
With this free download, you'll learn:

The effect of smart safes on your bottom line
The impact of smart safes on cash management
The need-to-know features of smart safes
The formula for determining the right safe for you
Access your copy by filling out this form »