When it comes to managing payment and transaction technology, there are fixes that keep the day rolling—and vision that pushes your operations to the next level for a better customer experience. These technologies can bring greater accountability, security, insights, and efficiencies to your business, or they can drown you in upkeep.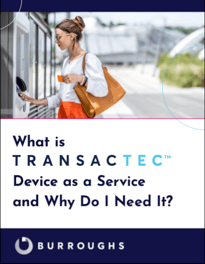 Don't let the promise of sophistication turn into complexity that distracts from your core business.
Burroughs can help you find the best answer with our TransacTec™ Device as a Service solution. Download our e-book, What is TransacTecTM Device as a Service and Why Do I Need It?, to learn:
How to get access to industry-leading devices and services all with one predictable rate per month
Why TransacTec™ can deliver more features for your customers while maximizing up-time, security, and compliance
How Burroughs can provide full life-cycle support and provide the tools to increase visibility into your cash management ecosystem
Fill out the form to get this resource today!